(Click pictures to enlarge)
The largest and most impressive jumping castle in our range. Find dinosaur bones & relics from the Jurassic era while climbing the volcano walls & then sliding down the lava run!
Ages: 3 to 16 years.
Capacity: 15 - 20.
Space: 11m x 9m x 5.5m (H).
This more compact fun house is ideal for smaller groups or where space is tight.
Ages: Up to 14 years.
Capacity: 6 - 8.
Area: 3.76m x 4.07m x 3.66m (H).
This unique inflatable is sure to create a big impact at your event, with a 5 metre tall Batman guarding it's entrance. Once inside navigate the obstacle course to escape down the slide!
Ages: 3 to 16 years.
Capacity: Up to 15.
Area: 9.3m x 4.68m x 5.03m (H).
This inflatable train has heaps of detail inside as well as a bouncy floor for safe & fun play. See how long it takes to get from one end to the other.
Ages: 2 - 12 years.
Capacity: Up to 6.
Area: 13.72m x 4.9m x 3.05m (H).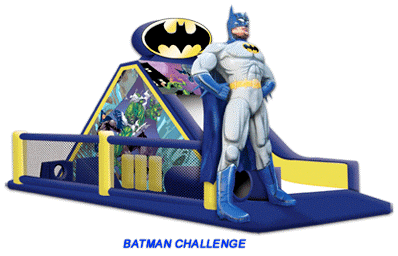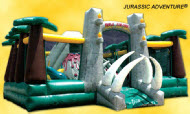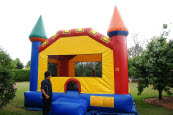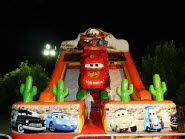 DOUBLE LANE
SLIDE & JUMPER
This Disney Cars themed jumper is a big, brightly coloured inflatable with twin slides & would be a stand out at any event.
Ages: 3 to 16 years.
Capacity: 15 - 20.
Area: 8.23m x 5.95m x 6.41m (H).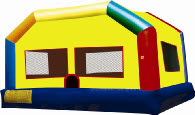 This extra bouncy fun house has plenty of room for your larger groups.
Ages: 3 to 16 years.
Capacity: Up to 12.
Area: 4.4m x 6.1m x 3.66m (H).
At AA Amusements we can help you to select the most suitable jumping castle to hire for your party,fete, festival or carnival.
Our range includes simple bouncy castle jumps through to more complex adventure style castles.
AA Amusements can tailor a package to suit the specifics of your event, ie location, size, number of patrons and purpose.
Can't see what you're looking for? Have a question about jumping castle hire? Click on the link below.
DORA & DIEGO
LEARNING ADVENTURE
THE LOST ARK
ADVENTURE CASTLE
This inflatable playground offers fans of Dora & Diego some educational playtime! The obstacle course offers counting and colour activities, a large ball pond and an easy climb and slide for hours of aerobic and academic building fun.
Ages: For the little ones.
Capacity: Up to 12.
Area: 8m x 8m (approx).
New to AA Amusements range is this large and colourful adventure themed jumper, complete with slide and mummified obstacles.
Ages: Up to 16 years.
Capacity: Up to 20.
Area: 10m x 9m (approx).